In 2018 SWEP introduced Sealix® a new revolutionary thin-film technology giving extra protection for tap water systems to significantly reduce fouling, scaling and corrosion and minimizing the risk of failure and maintenance costs in tap water systems.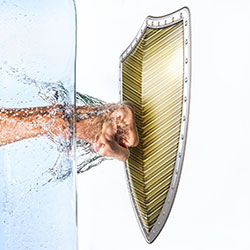 Since then, SWEP has taken additional steps to investigate if Sealix can benefits other target applications and testing has been conducted using a Sealix BPHE in engines and other oil systems. The results are clear - Sealix shows a significant increase in copper leaching protection in oil systems.
To investigate the increased leaching protection with a Sealix BPHE, a test rig has been built in the Garage in Landskrona. The tests were performed with an oil that has shown to be aggressive to copper.
The results shows that a Sealix BPHE has significantly lower leaching potential compared with a standard copper brazed plate heat exchanger. For systems where it is crucial to keep the copper levels to a minimum and customers have experienced problems with copper leaching, a Sealix BPHE is therefore a great alternative for customers to decrease the needs for maintenance and oil changes.
To document the test procedures and test results, we have created a report that is available upon request. To receive a copy of the report, please contact us at info@swep.net