Using available energy for productive use
ORC (Organic Rankine Cycle) technology made possible by SWEP brazed plate heat exchangers is being used in Sweden to transform waste heat into renewable electricity. This high efficiency and low maintenance way to produce sustainable electricity is being adopted by district heating systems around the world.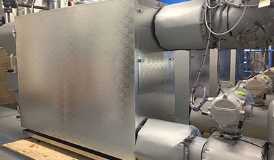 Waste to Energy - 80% was turned into district heating
Vestforbraending is one of the largest waste management companies in Northern Europe. The company owns and operates a combined heat and power producing waste-to-energy plant with an annual capacity of 600,000 tonnes of waste. All the heat produced is utilized as the plant is interconnected with the regional district heating system in Copenhagen.
Understanding brazed plate heat exchangers efficiency in your systems
SWEP is the world's largest producer of brazed plate heat exchangers. This heat exchanger technology is a great option in terms of efficiency and form factor in multiple applications. This case highlights how to choose the proper heat exchanger and how that choice directly impacts the performance of the system.
Bringing hospital cooling into the future with brazed plate heat exchanger upgrade
Every technology is designed for a wide range of applications and has its own pros and cons, but sometimes there are many advantages to choosing one technology over another. Heat exchangers have different technologies and can be used in many application processes. However, with the correct technology, it is possible to optimize and increase the efficiency of the application.
All-Stainless brazed plate heat exchangers: A robust solution to upgrade biogas as fuel to PowerGen
Luming Inteligência Energética had an application where the main objective of the system was to generate electricity reusing the energy contained in the biogas. They needed a compact, non-corrosive solution and SWEP brazed plate heat exchangers were able to deliver.
Brazed plate heat exchanger condenser provides cooling solution upgrade for hospital
An existing S&T condenser was successfully replaced with one of our much smaller brazed plate heat exchanger models and managed to outperform the older, larger technology easily.
Airflux- significant cost savings and lowered CO2 emissions through efficient heat-recovery solutions
Airflux, based in Lille, France, is one of the leading providers of air compressors for the French market.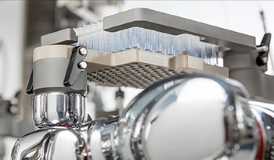 Optimizing freeze drying solutions for the Pharma Industry
For more than half a century, IMA Life Freeze Drying Solutions has been the gold standard when it comes to providing the benchmark for freeze drying solutions to the pharmaceutical and biotech industries.
China State Shipbuilding Corporation Limited gains efficient and stable power for vessel transportation
China is the most populous coastal country in the world. Vessels are necessary technical equipment for the operation of the marine industry. The reliability of vessel's power unit has attracted intensive attention from the whole industry chain.
SWEP's largest brazed plate heat exchanger range provides efficient, compact oil cooling solution
One of SWEP's largest brazed plate heat exchangers provided a compact, effective solution that helped Woerner create the ideal oil cooling solution needed for their skid system. Even though our XL range is some of the largest brazed plate heat exchangers we produce, we were still able to provide a much more efficient solution in a smaller package compared to the competing, older technologies like Shell & Tube.
Tele2 Arena
Výkonná technológia pre moderné priestory.
Ocenená Tele2 Arena v hlavnom meste Švédska Štokholme dokáže byť dejiskom veľkých koncertov i všetkých druhov športových zápasov. Výkonné spájkované doskové tepelné výmenníky (BPHE) od spoločnosti SWEP umožňujú svižné a spoľahlivé pokladanie kvalitnej ľadovej vrstvy pre zimné športové podujatia.
Heat exchangers bring 34% higher capacity to new energy transfer station
More power and less maintenance combined with reliable operation. The new energy transfer station in Danish Glostrup have found a cost-effective solution with two of SWEP's B649 brazed plate heat exchangers.