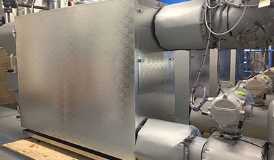 Waste to Energy - SWEP transfer 51MW at Lyngby Kraftvarmeværk A/S
Vestforbraending is one of the largest waste management companies in Northern Europe. The company owns and operates a combined heat and power producing waste-to-energy plant with an annual capacity of 600,000 tonnes of waste. All the heat produced is utilized as the plant is interconnected with the regional district heating system in Copenhagen.
Airflux- significant cost savings and lowered CO2 emissions through efficient heat-recovery solutions
Airflux, based in Lille, France, is one of the leading providers of air compressors for the French market.
China State Shipbuilding Corporation Limited gains efficient and stable power for vessel transportation
China is the most populous coastal country in the world. Vessels are necessary technical equipment for the operation of the marine industry. The reliability of vessel's power unit has attracted intensive attention from the whole industry chain.
How Volvo Car Gent is driving sustainability
SWEP's compact and high capacity brazed plate heat exchangers (BPHEs) have allowed Volvo Car Gent to substantially reduce its use of fossil fuels for heating purposes. CO2 emissions have been decreased by 15,000 tons per year, a net decrease of more than 40 percent.
Centrum Alberta Shermana na Massachusettskej univerzite
Keď University of Massachusetts Medical School (Lekárska škola Massachusettskej univerzity) v roku 2013 v univerzitnom areáli vo Worcesteri otvorila špičkové Centrum Alberta Shermana za 400 miliónov $, uviedla, že vďaka nemu škola "vstúpi do novej éry biolekárskeho výskumu, vzdelávania lekárov a spolupráce s campusom". Spolupráca hrala významnú rolu aj pri chladení 11-poschodovej budovy s rozlohou 156 000 metrov štvorcových počas teplých a vlhkých liet, ktorú sú tu bežné.
Pomoc pri lepšom riadení Montpelieru
Zo systému diaľkového kúrenia hlavného mesta Vermontu sa za pomoci BPHE od firmy SWEP stal obrovský úspech.
Tele2 Arena
Výkonná technológia pre moderné priestory.
Ocenená Tele2 Arena v hlavnom meste Švédska Štokholme dokáže byť dejiskom veľkých koncertov i všetkých druhov športových zápasov. Výkonné spájkované doskové tepelné výmenníky (BPHE) od spoločnosti SWEP umožňujú svižné a spoľahlivé pokladanie kvalitnej ľadovej vrstvy pre zimné športové podujatia.
Heat exchangers bring 34% higher capacity to new energy transfer station
More power and less maintenance combined with reliable operation. The new energy transfer station in Danish Glostrup have found a cost-effective solution with two of SWEP's B649 brazed plate heat exchangers.
Pioneer power station with BPHE LNG vaporizers
One of the world's first power stations with BPHE LNG vaporizers has been installed at a gold mine in Perth, Australia. The company behind the project, EVOL LNG, is a leading provider of LNG for transport, power generation and other industrial applications. It provides a trucked natural gas solution to fuel off-grid power stations and deliver a solution with less capital cost than natural gas pipelines and with lower fuel costs than diesel.
Reliable BPHE for sensitive research
After a public tender, the Catholic University of Leuven (KU Leuven) in Belgium awarded Cofely Axima (GDF SUEZ) parts of the contract to build a new chemical laboratory.
Göteborg Energi sees the bigger picture
Gothenburg is a port city with a strategic location between Oslo and Copenhagen. With a population of approximately 530,000 it is Sweden's second largest city. As Western Sweden's leading energy company, Göteborgs Energi has been supplying the city with district heating since 1952. However, the company does not just supply residential and commercial buildings. By adding a car manufacturer plant and a ferry to the grid, energy utilization is optimized.
At the forefront of innovative solutions
A major provider of thermoplastic, thermosetting and elastomer injection molding machines, Negri Bossi India Pvt Ltd knows what is important: reliable performance and efficient use of energy. Ensuring that customers enjoy a major competitive advantage while remaining environment-friendly, their machines represent the industry benchmark for low energy consumption.